Though not conclusive (force 1-2 winds, just guessing, for this small area), and a bit of paddling to assist progress (just felt the boat a bit more lively), i still have something to trim and reshape on this "stay sail"(?) (double mainsheet didn't slack sail properly at beam reach too, but think this has much to do with actual length of mainsheet combined with deck clearance).
Downwind
seems
ok...works as "spinnaker"(?) too, since it's a folded 2 halves' triangular sail, but still have to overcome bad front visibility.
Anyway, i didn't expect so much leehelm during upwind, given midship sail position, but this might have been because i was sailing from rear seat with a light bow section, i believe.
Tacking is done without much hassle with bungee (intercalated small section shock cord) assisting double mainsheet (for each of "jibs'" halves), locked through two clamcleats on either side of coaming or onto a crossbar... however one can always merge the 2 mainsheets into just one (by means of a carabiner for instance), which conveniently reduces clamcleats to 1 for this purpose.
Mainstay for this sail can always be locked on crossbar too or beneath coaming (in front of paddler's position), with another clamcleat.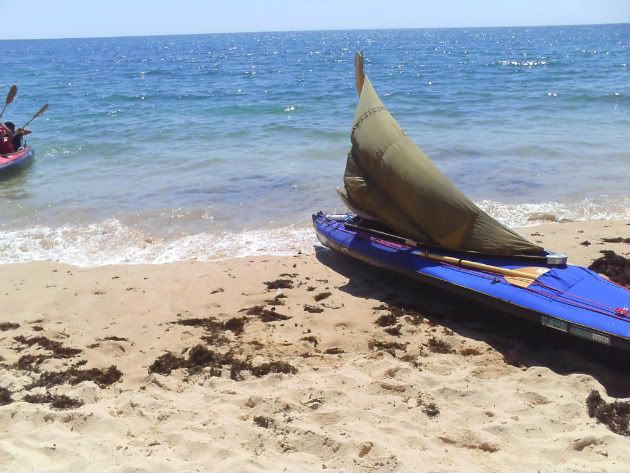 Note:this was not invented by me (just modified or adapted to my Klep).
Previous hinged mast sail project remains idled:(
Regards