After refinishing a 1964 Klepper frame and having Long Haul make a new hull, I took it out sailing on the lake with the kids only to quickly realize I needed outriggers. My youngest is 5 and I just did not want to take a chance of capsizing in the middle of the lake, as much fun as it would be... So after ordering the aluminum and Seamark I put together a set.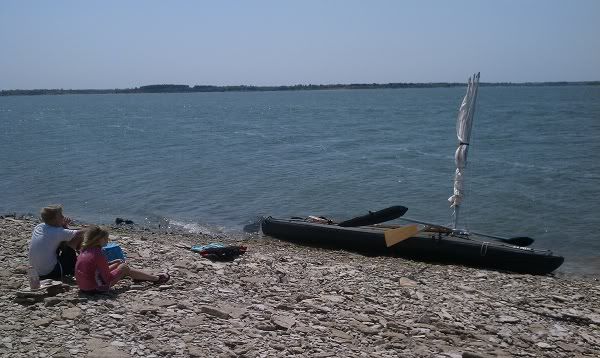 I have to thank the yostwerks website for learning the techniques of making vinyl equipment, the inflatable portion (ama) is made out of Seamark, and seems to work well, NRS valves and all. I researched what was out there already, but came up with my own way to mount the Ama to the Aka. I used a 20" piece of fiberglass rod and threaded it through a sleeve in the ama and through the center of the aluminum pole of the aka. By inserting the fiberglass rod before blowing up the ama, all the air pressure actually keeps it on there very tight and makes the whole unit pretty stiff. Everything breaks down, the poles is three 4' sections held together with button fasteners (like on tent poles). I made klepper-like clamps from stainless bolts, brass thumb screws, and flat aluminum from Ace hardware. I probably have just over $100 in materials all together.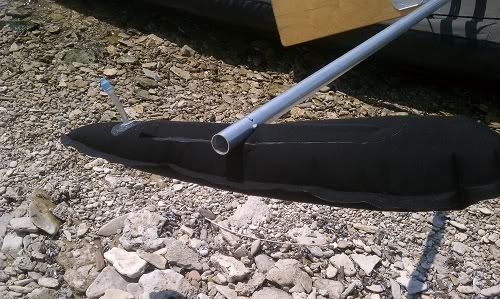 If I could go back and do it again, I would have made the ama's bigger and I may make a new set in the future. They do work, but under heavy wind they get plowed underwater just a little bit. I also may add some 550 cord on the outside edges (from the edges of the ama up to the aka) to keep them from rolling left and right. The roll just a bit, and it doesn't affect the function, but I think I can get them rock steady with a little more support.