It turned out to be every bit as frustrating as I feared probably impossible until you learn to embrace the wrinkles and live with them although the fewer the better.
The
fabric I chose
was a dense polyester weave impregnated with PVC and has no give or stretch in it, I tried warming it up by the stove and 2 people pulling as hard as we could along the keel, if the was any give I didn't notice. One suggestion I have since found is to attach a tackle or small winch and leave in the hot sun or heating in some way while periodically increasing the tension, maybe......
A nylon fabric impregnated with PVC might be better.
Another approach would be to cut panels and join at each stringer rather like doing a stitch and glue hull as shown
here
, maybe next time.
These are some of the wrinkles I had at the gunwale on the first attempt.
Probably not the best option but I cut 2 darts in each side
The finished darts which created some wrinkles of there own, most of which I have been able to work out, the 2 darts took a total of 2 inches of excess material out of the gunwale area the was no way I could figure out how to stretch the material along the keel that much as a neater alternative to the darts. I have a renewed respect for the professionals, I notice my neighbours Klepper only has one horizontal seam in the hull just below the sponson and no darts, I would love to know how they do it although it probably has something to do with the choice of fabric and having built thousands.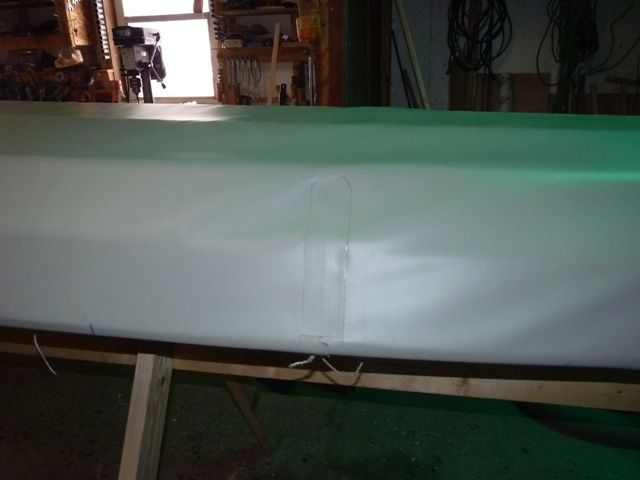 I'm just putting on the last of four deck panels, here the deck is temporarily held down with masking tape while I mark the glue line on the hull so I can attach masking tape.
She is beginning to show her classic PBK lines.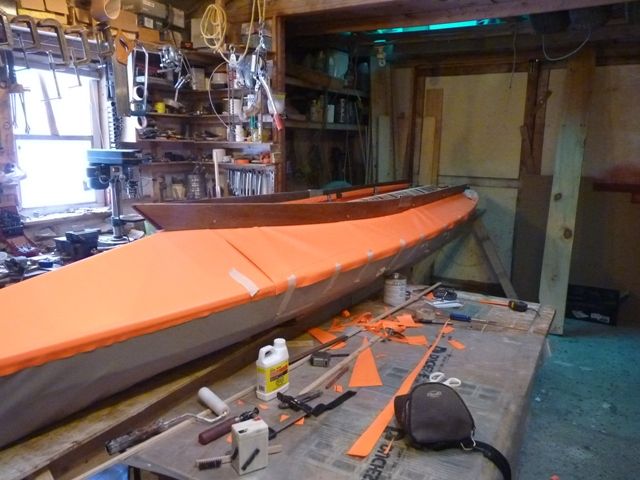 A few more jobs to do on the deck and then I can remove the temporary lashings and cut out the excess fabric. Then comes another moment of truth how easily the frame will come out and go back in, tightening the temporary lashing is a bit of a judgement call, too tight and the frame will be hard to install, too loose and wrinkles.........
A few more pictures
here
Thanks for the link John I'll get in touch