What work and what didn't part 2
4) The hinges where the stringers fold don't have enough wood left in them to handle the tension load and 3 on the bottom have fail as indicated in the picture, the wood having pulled out, I was completely unaware of it at the time it wasn't until I was dismantling the boat that I found them. These has since been fixed by removing more wood (about 1/16") and epoxying 2 layers of 8oz glass cloth around the ends to form a 6" long socket around the wood (hope that makes sense) so far it has passed the car roof
The brass hardware has been replaced with aluminum rivets
As it was only the bottom stringers that broke in tension it has 3 likely causes that I can think of
1) the normal working of the boat in a seaway, least likely in my opinion
2) Carrying the loaded boat up the beach, hard on the back we now use rollers.
3) Cranking down on the straps too hard when on top of the car, we traveled about 300km this summer like this.
The repair seems to be holding up to the roof test so the plan is to redo all 16 joints I have no use for a boat that can't take this kind of abuse.
5) Percy knew what he was doing, the design continues to impress me secondary stability is impressive, the layout of the deck and cockpit coaming shed water well we have never had solid water in the cockpit although we don't play in the breakers we have been in open water with winds in the 15-20kt range nothing unusual for a kayak but all I want. A spray deck is under construction just in case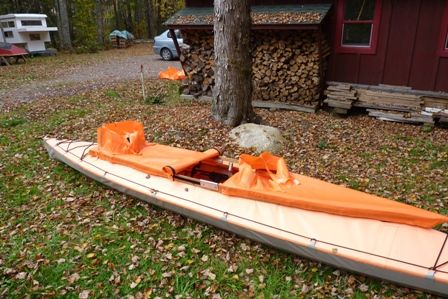 And finally if you don't like deserted beaches with idyllic campsites don't come to Nova Scotia the pictures below were taken on the south shore in the Cape La Have islands (about 100km from Halifax) in July on a weekday, we saw no one
On another trip on the NE coast we were out for a week, similar idyllic spots all week we saw 3 kayaks and one recreational fishermen